Free registration required before viewing this course
Already have an account? Click here to log in.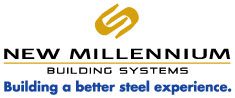 Digging Deeper into the Design of Joists
---
Course Information
This is a higher-level course having some deeper engineering content. The overall purpose is to have all engineers become more-informed steel joist specifiers, not to turn them into joist engineers. More-informed specifying engineers then can more-efficiently collaborate with New Millennium joist engineers early on a project. Together, we can then accelerate the process, cut costs and improve the project-delivery timeline.
Author
Joseph K. Voigt, P.E.
Learning Objectives
Understand the responsibilities in preparing contract documents
Select and specify products suitable for their use
Know how to address deflection and camber
Account for special loading and uplift
Already have an account? Click here to log in.