Delta Showcases Fully Integrated IoT-based Smart Green Solutions for "Smarter Buildings, Smarter Cities" at AHR Expo 2023
Delta, a global leader in power and thermal management solutions, today demonstrated, at AHR Expo 2023, a seamlessly integrated ecosystem of IoT-based Smart Green Solutions capable of enhancing energy conservation, productivity, security and indoor air quality (IAQ) in buildings and cities. Visitors will experience the new Red5 IoT building controllers leveraging environmental data from the O3 Edge, over 10 parameters of indoor environment quality data from the new UNOnext Indoor Air Quality Monitoring System, and data from surveillance systems, to turn HVAC, LED lighting and other building platforms into intelligent, eco-friendly and human-centric infrastructure.
"By featuring IoT connectivity, intelligent control and an emphasis on sustainability, our uniquely diversified portfolio of building solutions showcased at AHR 2023 truly reflects Delta's corporate mission 'To provide innovative, clean and energy-efficient solutions for a better tomorrow'", said Kelvin Huang, President of Delta Americas. He added, "As a world-class corporate citizen that has, not only committed to the RE100 global initiative with a promise to operate 100% on renewable energy by 2030, but also helped its worldwide customers save more than 35.9 billion kWh of electricity over the past decade, Delta remains focused on developing solutions that nurture the pillars of sustainable cities and buildings: Higher productivity, energy efficiency, health and wellbeing."
Key highlights and solutions on display at Delta's AHR booth #C5307 (Building C, Level 1 – C5307), include smart building automation by Delta Controls and LOYTEC, smart LED lighting by Amerlux, surveillance and security systems by VIVOTEK, IP software/systems by March Networks, as well as the new UNOnext Indoor Air Quality Monitoring System.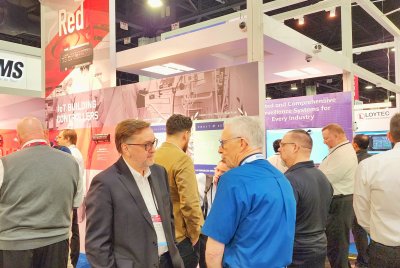 Building Automation Solutions
Delta is committed to leading building automation into a sustainable future. The Delta Partnership ensures that customers have everything they need to design and operate sustainable building solutions under one roof, powered by our networks of Industry-leading companies. With best-in-class products from Delta Electronics and its brands including Amerlux, Delta Controls, LOYTEC, March Networks, and VIVOTEK, Delta's integrated building solutions seamlessly connect building operation to the IP-based network and bring value-added services to our customers. Whether customers need Smart Surveillance, Access Controls, Room Automation, HVAC, IAQ, Lighting, or others, Delta's Building Automation solutions can extend their smart building possibilities.
Delta Controls will be unveiling its latest in building controls – the Red5 product line. Red5 is Delta Controls' next generation of native BACnet controllers with secure and scalable IoT connectivity. Offering faster processing speed and flexibility, increased memory and I/O modularity, and numerous retrofit options, customers will be able to continuously expand their building control system by integrating the newest, cutting-edge technologies.
LOYTEC will display various smart building solutions, including HVAC and lighting control, people counting, and asset tracking, that fully benefit from their renowned multi-protocol, distributed IP-based building automation infrastructure. IP systems from LOYTEC provide superior interoperability, enhancing building data transparency with minimal engineering efforts. Showcasing Bluetooth™ demonstrates how LOYTEC has strengthened their wireless portfolio, making smarter buildings a reality.
Industrial Automation Solutions
With over 50 years of experience in power technologies, Delta delivers an extensive range of industrial power supplies comprised of DIN rail, panel mount, and open frame types, that meet industry standards. Designed to work seamlessly with Delta DIN rail power supplies, Delta's power supplies can be used in the industrial automation environment, for renewable energy, medical equipment, and more.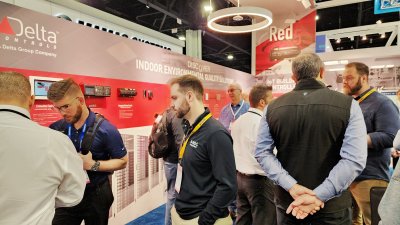 Delta's IIoT solutions increase networking and data exchange capabilities, while reducing machine downtime, and existing machines can be upgraded to be IIoT smart machines simply by adding an IIoT function card to an existing Delta AS PLC.
Indoor Air Quality, including Sensors, Fans and Thermal Management
The new UNOnext Indoor Air Quality Monitoring System help improve health conditions in buildings by providing real-time monitoring of over 10 indoor environment quality parameters, including CO (carbon monoxide), PM2.5 particles and TVOC (total volatile organic components), and supports edge-side logic control to ERV and FC.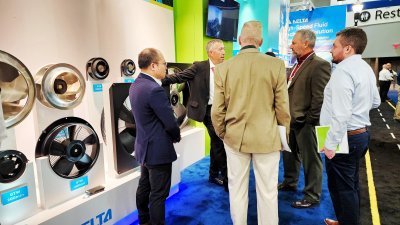 Developed with Delta's brushless DC motor technology, Delta Breez introduces the Rio Vista (8-blade) and Pleasanton (5-blade) Ceiling Fan Series, both of which can provide year-round comfort and improved indoor air quality for your home or business. Recognized as Most Efficient of ENERGY STAR 2023, the bi-directional Breez fans are 70% more energy efficient product compared to similar AC motor products, offer smooth start-up, virtually silent operation, and provide even airflow across an entire space, whether indoors or outdoors. For a portable option, The Breez AMR1200 is a powerful and quiet air mover with 3-speed options ranging from 800 – 1200 CFM – perfect for drying a space.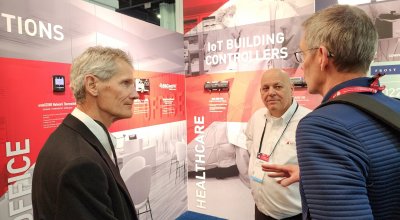 Human-Centric Lighting
Standard and custom linear and ambient lighting options from Amerlux offer concentration and cognitive improvements without sacrificing aesthetics or control. With designs that let the interior design and not the lighting take center stage, Amerlux's products balance clean, minimal aesthetic design with industry leading optical performance. At the booth, Amerlux will showcase first-class architectural lighting options and SmartSite Connected Luminaires, including a wireless control system powered by Synapse that provides basic and advanced controls, allowing it to serve as the foundation of emerging IoT applications.
Security and Surveillance
VIVOTEK's newest outdoor network cameras boast superb image quality in any environment, with no blind spots – perfect for open areas such as airports, schools, and parking garages. Advanced H.265 compressing and image identification technologies also reduce your bandwidth and keep data storage consumption to a minimum, without missing an event. Paired with March Networks® Cloud options that enable customers to create dashboards and reports customized for their business needs, Delta's surveillance solutions are ideal for remote management.
About Delta
Delta, founded in 1971, is a global leader in switching power supplies and thermal management products with a thriving portfolio of smart energy-saving systems and solutions in the fields of industrial automation, building automation, telecom power, data centre infrastructure, EV charging, renewable energy, energy storage and display, to nurture the development of smart manufacturing and sustainable cities. As a world-class corporate citizen guided by its mission statement, "To provide innovative, clean and energy-efficient solutions for a better tomorrow," Delta leverages its core competence in high-efficiency power electronics and its ESG-embedded business model to address key environmental issues, such as climate change. Delta serves customers through its sales offices, R&D centres and manufacturing facilities spread over close to 200 locations across 5 continents.
Throughout its history, Delta has received various global awards and recognition for its business achievements, innovative technologies and dedication to ESG. Since 2011, Delta has been listed on the DJSI World Index of Dow Jones Sustainability™ Indices for 11 consecutive years. In 2022, Delta was also recognized by CDP with leadership level ratings for its substantial contribution to climate change and water security issues and named Supplier Engagement Leader for its continuous development of a sustainable value chain.
For detailed information about Delta, please visit: www.deltaww.com