Harlem Housing Concept Wins 2022 Forge Prize
The three finalists presented their projects live on YouTube in a stream that drew an international audience from as far away as South Africa. After tough deliberation, the 2002 Forge Prize jury rendered its verdict. Vincent Yee Foo Lai of Adjaye Associates and Douglas Lee of the University of California, Berkeley took home the $10,000 grand prize for an inspiring concept to transform public housing in New York City's Harlem.
AISC thanks judges Alex Bachrach (Architectural Record), Evelyn Lee, FAIA (Slack Technologies), and Miles Nelligan (Diller Scofidio + Renfro) for their dedication to this program. The jury named Martin Miller's design for an iconic Silicon Valley structure first runner-up, followed by Levi Wall's concept to re-imagine a site in Detroit.
The Forge Prize is unique in that it matches emerging architects with steel fabricators to brainstorm innovations that could make the three finalist design concepts easier and more economical to construct in the real world.
Lai and Lee worked with fabricator Rob Williams of Steel LLC to refine their concept in the second phase of the competition. One of the things that emerged from that partnership is a steel column with a tectonic train-track rail. That component of the steel structure would facilitate transporting materials up to the jobsite. The rail would also contain mechanical systems.
AISC's Senior Structural Steel Specialist for the Houston market, Alex Morales, noted that the challenge of practicing architecture is merging the romanticism of studio architecture with the reality of what it takes to create something tangible. "What we see in the Forge Prize is a connection between those two worlds," Morales said. "Hopefully after working with your fabricators, you are able to value the importance of that collaboration and what that looks like in practice–understanding things like how a fabrication shop operates, how many times you can repeat certain elements to reduce costs, the parameters of transportation, and other logistics that do help inform your design and ultimately contribute to a healthier project."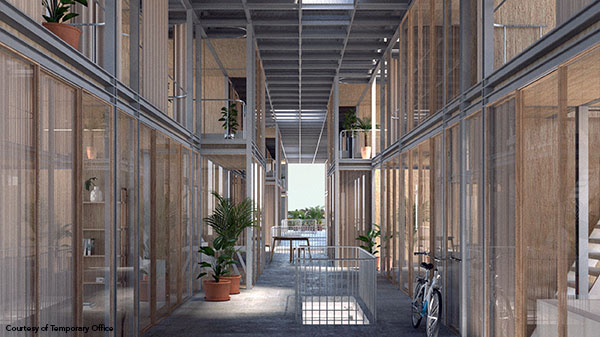 Judges praised the design for its creative approach to the demand for low-cost housing, deliberately fostering communities within communities, and using the modular options to introduce an element of agency that is missing from most current affordable housing schemes.
"We are extremely honored to receive the Forge Prize," said Lai and Lee. "This recognition is a cherry on the cake for the fruitful three months of mentorship process. It has taught us to push the boundaries of the space-making and construction process with the versatility of steel. The work here is not done; we will be carrying this momentum to further unlock the potential of modular construction to house communities in need. To forge living spaces for the common good."
"I'm excited for Vincent and Douglas! said Rob Williams, vice president of sales at Steel LLC. "They put a lot of time and effort into the project. They did a great job coordinating their ideas and design with the functionality and constructability of the steel structure. It was a lot of fun for me in that I was able to get a glimpse into the future to see what types of projects we might be building five to 10 years down the road. I truly hope that Vincent and Douglas's design becomes a reality someday!"
Additional and high-res images are available here.
About the design concept:
The "Common-Sky" vision would essentially create a new steel housing block atop the Riverton Square development in Harlem, with a focus on building community not just among neighbors but between occupants of the new and old sections.
"To rebuild is very easy–just take down the existing building," said Lai. "Why don't we think of ways to leverage the existing community and build a new one? This is a very apt idea to forge new and old communities through steel construction, which is fast and easily modified."
Public space is central to their plan to build community. Their design would open up the first floor of the existing building to create a porous space that welcomes residents and those from the surrounding areas. Even the corridors are designed to create a village-like atmosphere. The "Common Sky" area between the new and old units would serve as a focal point for people to gather, with a library and cafe. A roof terrace with modular steel trays provides space for an urban farm, as well.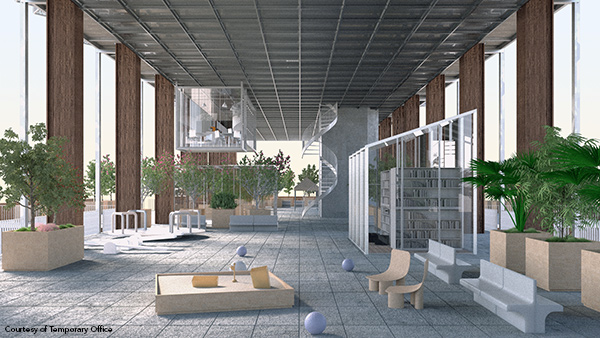 The new prefabricated, modular units (each selected to meet a resident's needs) would be supported by columns attached to the existing building. Lai and Lee drew inspiration from the gerberette system in Paris's Centre Pompidou.
To pay homage to the existing brick, Lai and Lee's concept would use weathering steel as the primary structural material; perforated metal mesh cladding would let in maximum daylight cladding would let in maximum daylight.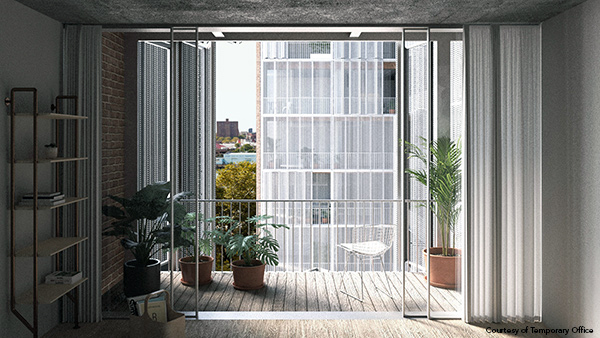 For more information contact:
Dani Friedland
Director of Marketing Communications
773.636.8535
[email protected]
American Institute of Steel Construction
The American Institute of Steel Construction, headquartered in Chicago, is a non-partisan, not-for-profit technical institute and trade association established in 1921 to serve the structural steel design community and construction industry. AISC's mission is to make structural steel the material of choice by being the leader in structural steel-related technical and market-building activities, including specification and code development, research, education, technical assistance, quality certification, standardization, market development, and advocacy. AISC has a long tradition of service to the steel construction industry of providing timely and reliable information.