Water is Life: Protecting Water Resources and Infrastructure With Purpose-Built Cloud Technology
Water is life. This is a statement of fact—and a daily reminder of the responsibility our team at Innovyze, now an Autodesk company, has carried with us each day for thirty-five years. Therefore, we innovate, relentlessly, to ensure we provide the best technology to support our customers and the billions of people who depend on them to thrive worldwide.
The technology we develop is purpose-built and helps our customers provide clean drinking water, treat wastewater, and enable cities and municipalities to monitor and manage their systems—to identify challenges before they become crises. Downtime is not an option considering how critical water is to life.
Info360: Managing water from cloud to sea
Managing the safe use of water from cloud to sea was at one time a figurative way of explaining what Innovyze technology does. This became the literal reflection of our work when we introduced, a modern Software-as-a-Service (SaaS) cloud platform for water utilities. Aging infrastructure, increasingly limited natural and financial resources, and disconnected technology systems put greater pressures on water infrastructure operation than previously experienced. The Info360 platform creates and powers a digital twin using the data created from planning through construction resulting in better, always-up-to-date insight for operations and maintenance.
From cloud to sea, Innovyze helps manage water infrastructure through the entire lifecycle. Learn more about the Info360 cloud platform.
Introducing Info360 Asset
As the Info360 platform expands, we know important keys to successfully managing water infrastructure are understanding how the system and assets are performing and how we respond to issues. Info360 Asset, available in beta, is the latest product to join the Info360 cloud platform. Info360 Asset serves as a cloud-based tool for the water industry's condition and performance monitoring and risk assessment processes.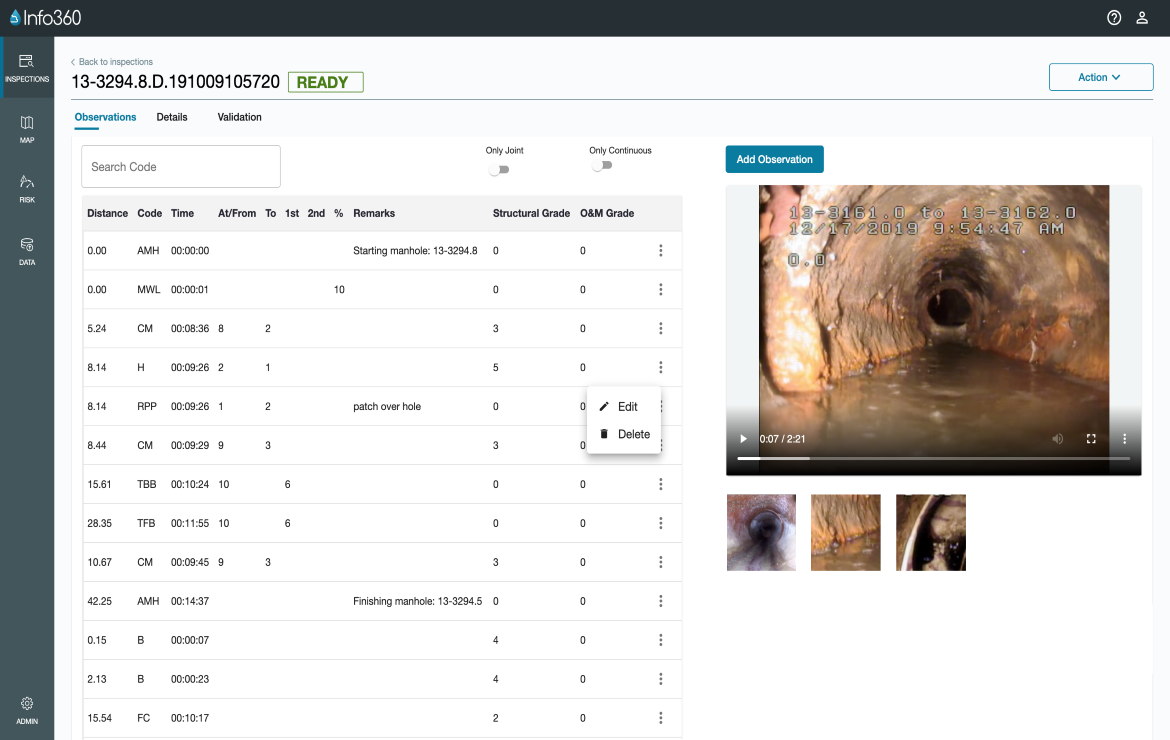 If we want to help utilities maximize the use of financial resources and protect water resources—and we do—operators must remain informed with accurate and usable data at their fingertips at all times
Today, like other industries, utilities are creating volumes of data, inspection data for example, but this data is often not converted to useful, valuable information. Without actionable data, the ability to clean, maintain, and repair, and renew assets—the pipes, treatment facilities, and other parts of the water management process—we cannot rely on consistent and efficient delivery of water to our faucets and showers. And we won't be able to safely and responsibly remove and treat wastewater from our homes and release it back into the environment.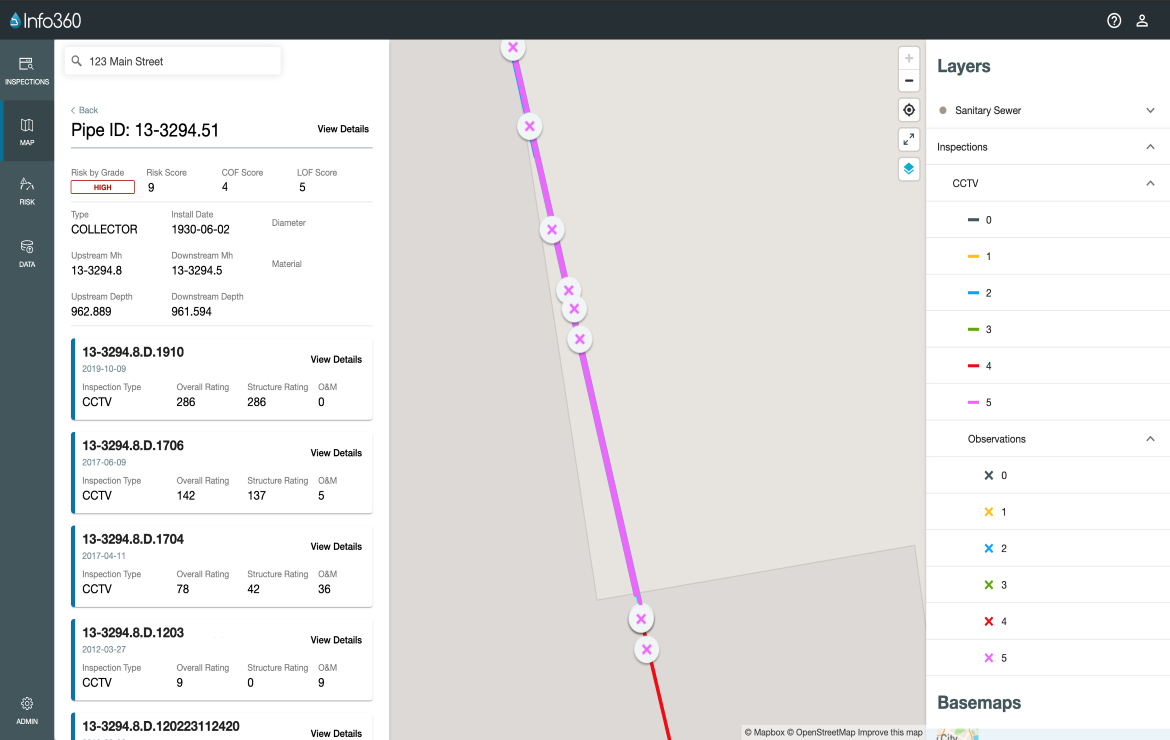 Adding greater challenge, far too much of the operational funds local municipalities and utilities spend for inspecting and managing assets are wasted. Thus, capital funds become tough to justify and get approved. Consider this, Closed Circuit TV is often used to inspect sewers and provide valuable information about the condition of the sewage system. Unfortunately, our customers tell us CCTV videos can sit in a van or a contractor's hard drive for weeks, and other times utilities cannot figure out which inspection data relates to the corresponding asset. The investment in capturing CCTV data is wasted because of inefficient processes and disconnected systems. Additionally, assessing your business risk exposure without leveraging the condition data you have invested in, will not return a representative risk profile you can rely on.
We've been listening to our customers for thirty-five years—and learning and responding. Info360 Asset keeps track of all CCTV surveys and enables asset management professionals to leverage all inspection data, both historical and current inspections. Info360 Asset also monitors asset condition and spatial data to identify potential risks before they become crises. Info360 Asset continuously updates risk levels as new inspections and condition data are available and published to the asset twin registry (read: digital twin for water infrastructure). This means that risk-based decisions always address your actual asset issues—whether each asset needs repair, rehabilitation, or replacement—and these decisions can easily be justified.
We encourage you to sign up for the beta program to learn more and to provide us feedback as we continue to develop the product. Like I wrote, we are always listening and always learning. Let us know what you think.
Creating solutions
Sometimes wrapping our heads around the enormity of a problem requires us to look at the costs associated with fixing the problem. In this case, nearly two trillion dollars are required to address water infrastructure needs globally by 2030 and the water industry of today cannot meet the needs of the future on its own. The math just doesn't work out. For example, while water utilities' annual capital expenditures are expected to double to $11 billion by 2030 the industry loses $14 billion annually worldwide because of the nine trillion gallons of water lost due to aging and leaky pipes.
With 60 percent of utilities globally expected to undergo a digital transformation by 2025, now is the time for advancements in technology and investments in the tools needed to support utilities.
Water is life—and a finite resource. Manage it well. Sign up for Info360 Asset now available in beta.
So, we will keep working to deliver the solutions needed to ensure the water we need for the future is safe and reliable. And through the beta of Info360 Asset, we will pay close attention to your feedback so we deliver a solution that positions us for a better water future.
Learn more about Innovyze, an Autodesk company, and the tools we offer to manage water infrastructure.