Samsung Americas Headquarters Wins National Steel Design Award
(Chicago, IL) – The Samsung Americas Headquarters (Device Solutions) in San Jose, Calif., has earned national recognition in the 2017 Innovative Design in Engineering and Architecture with Structural Steel awards program (IDEAS2). In honor of this achievement, members of the project team will be presented with awards from the American Institute of Steel Construction (AISC) during a ceremony to take place at the building on Wednesday, August 9, at 11:45 a.m.
"The grand, floating tiers are engineering wonders that elevate the building to a future time," commented April Y. Wang, a structural engineering master's student at Purdue University's Bowen Laboratory, and the engineering student juror in the competition.
With no perimeter columns on the east and west sides, the 10-story tower appears to float at every third level and offers occupants unobstructed external views. The resulting spaces, and the atriums around them, are dedicated collaboration areas, facilitating casual meetings and breaks from the traditional work spaces.
The project's team members include:
Owner: Samsung Americas, San Jose, Calif.
Owner's Representative: Samsung C&T, San Jose, Calif.
Architect: NBBJ, Los Angeles
Structural Engineer: Arup, Los Angeles (entered the project in the competition)
General Contractor: Webcor, San Francisco
Steel Fabricator: Gayle Manufacturing, Woodland, Calif. (AISC member / AISC certified)
Steel Detailer: A.D.S. Engineering, Inc (AISC member)
The 13 IDEAS2 winners for 2017 were chosen from nearly 100 submissions received from architectural and engineering and other project team member firms throughout the U.S. Each submission is reviewed and award winners are selected by a nationally recognized panel of design and construction industry professionals.
The IDEAS2 award dates back more than 50 years with AISC. And about this year's winning headquarters building, Charlie Carter, SE, PE, PhD, president of AISC, said, "This building is substantial yet light and graceful. It stands as a testament to the creativity and skill of its designers and constructors — and the steel materials that made it work."
Members of the media may request high-resolution images of the project by contacting AISC's Tasha Weiss at 312.670.5439 or [email protected]. For more information about the IDEAS2 awards and to view all of this year's winners, please visit www.aisc.org/ideas2. Entries for the 2018 competition are due by October 6, 2017.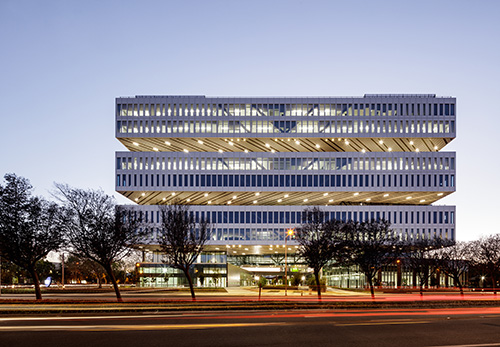 Photo by Tim Griffith
For more information contact:
Tasha Weiss
Communications Department
312.670.5439
[email protected]
American Institute of Steel Construction
The American Institute of Steel Construction, headquartered in Chicago, is a non-partisan, not-for-profit technical institute and trade association established in 1921 to serve the structural steel design community and construction industry. AISC's mission is to make structural steel the material of choice by being the leader in structural steel-related technical and market-building activities, including: specification and code development, research, education, technical assistance, quality certification, standardization, and market development. AISC has a long tradition of service to the steel construction industry of providing timely and reliable information.