Oklahoma DOT Notes Public-Private Partnership Success with Opening of I-40 Radio Road Interchange in El Reno
Oklahoma Secretary of Commerce and Tourism Deby Snodgrass joined officials Thursday from the energy industry, the City of El Reno and Oklahoma Department of Transportation to mark the completion of a historic public-private partnership to construct a new I-40 interchange at Radio Rd. in El Reno. In 2012, Chesapeake Energy Corp. of Oklahoma City announced it would pay the state's portion of construction costs and secure the right-of-way necessary to add new interstate access in the growing area.
Gov. Mary Fallin praised the completion of the project.
"Thanks to the partnership between Chesapeake Energy, the City of El Reno and ODOT, we've addressed another bridge and provided interstate access that will benefit businesses and drivers," Fallin said. "Highway access is one of the top-rated factors by businesses when looking to invest in a new location, so this interchange will help Oklahoma attract new companies and new jobs."
The $17 million project included reconstruction and widening of the existing Radio Rd. bridge over I-40 and adding new on- and off-ramps to provide interstate access. Work began in November 2015 and is nearing completion. A companion project by the City of El Reno widened Radio Rd. between I-40 and SH-66 to accommodate traffic using the new interchange.
"Enhancing infrastructure is a key component of meeting the state's ongoing goal of creating more and better jobs for Oklahomans," Snodgrass said. "The new interchange will serve as a draw for future development to the surrounding area, providing new economic opportunities."
Snodgrass was joined by City of El Reno Mayor Matt White, Seventy Seven Energy Corp. Chief Executive Officer Jerry Winchester, Secretary of Transportation Gary Ridley and ODOT Executive Director Mike Patterson. Seventy Seven Energy is a spin-off of Chesapeake Energy and owns several companies on Radio Rd., including Performance Technologies, Nomac Drilling and Great Plains Oilfield Rental.
"We saw this project as an investment in the future of Oklahoma's energy industry," Winchester said. "This new interstate access at Radio Rd. is a huge benefit to our companies and opens the door to expansion in the future."
Adding the interchange also enhances safety for motorists entering and exiting El Reno.
"The I-40 interchange at Radio Rd. will help remove heavy truck traffic from SH-66 and other city streets in El Reno and provide direct access to this growing commercial area. This will significantly improve motorist safety," White said. "Our city is proud to work with the state and Seventy Seven Energy to realize this major infrastructure improvement."
The Radio Rd. interchange is the newest access point added to I-40 since the John Kilpatrick Turnpike connection near Yukon was built by the Oklahoma Turnpike Authority in the early 2000s. In general, it is rare for state DOTs to add new interstate access due to the rigorous federal approval process and construction cost.
"Adding a new interchange to I-40 would have ordinarily been beyond the financial resources available to ODOT," Patterson said. "Chesapeake Energy created a challenge and an opportunity, but they also brought the solution by providing the matching funds and right-of-way necessary to make this project a reality."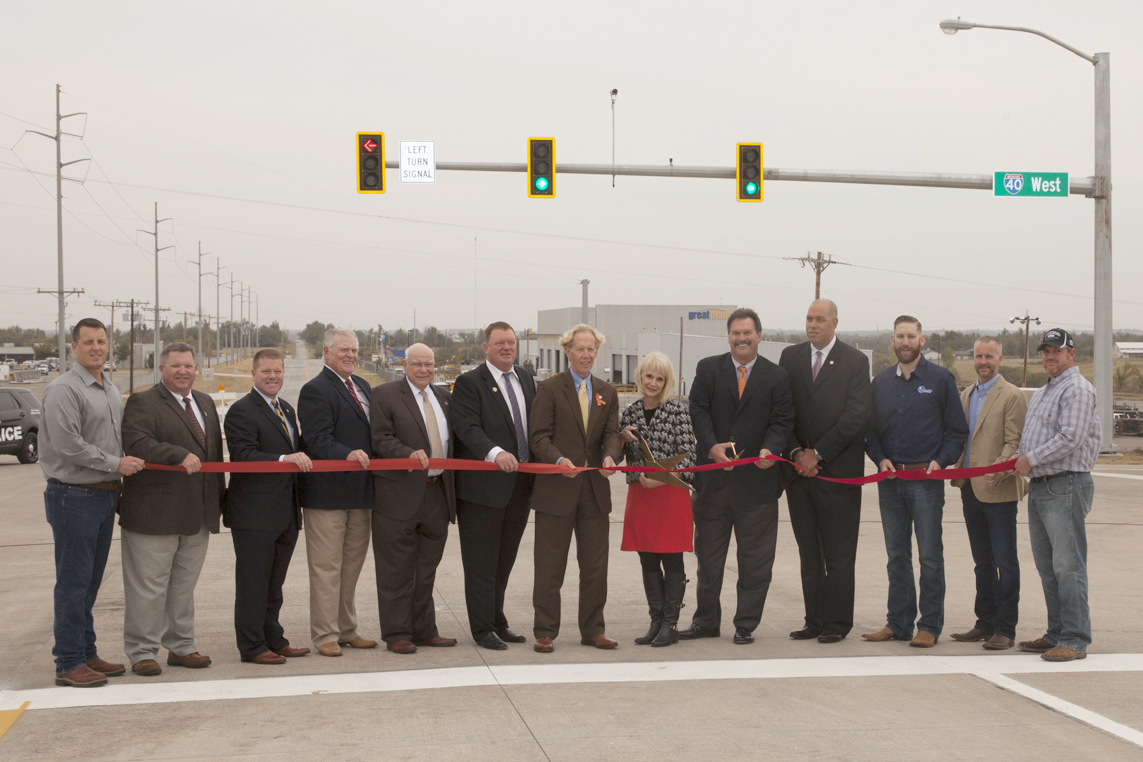 State and local officials dedicated the new I-40 interchange at Radio Rd. in El Reno this morning. The $17 million project opened to traffic one year and one day after the start of construction.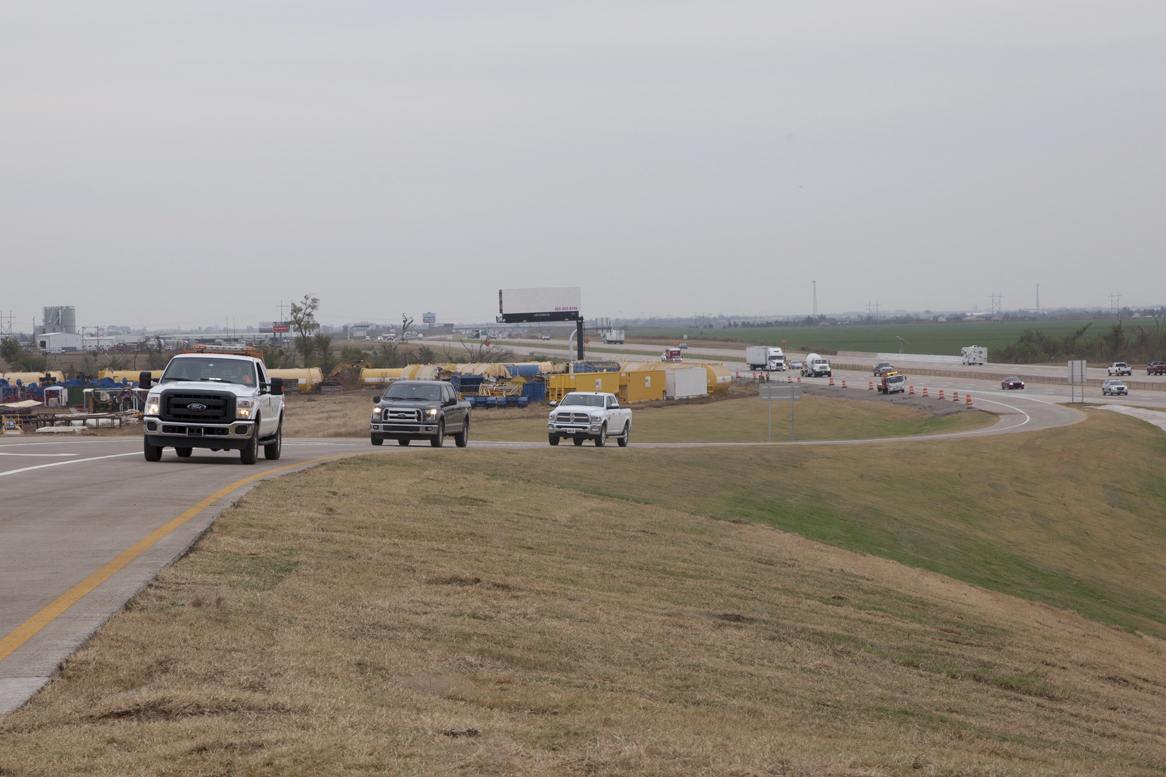 The newly built I-40 on- and off-ramps at Radio Rd. opened to traffic Nov. 3, 2016, creating a new access point to El Reno. Westbound I-40 traffic is seen in the background. The project also includes a new, five-lane bridge over I-40 with traffic signals at the top of the eastbound and westbound ramps